Injection Screws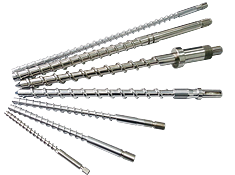 Injection Screws
Weirui specially manufactures a complete range of injection screws for most of the plastic injection needs from nitriding treatment to powdered-metallurgical tool steels ( imported from Europe ) :
• Nitrided Screw is for economical and general purpose application to meet most lightly glass-filled polymers.
• Special Screw made of powdered-metallurgical tool steel has excellent wear and corrosive resistant for most demanding polymers with highly glass-filled polymers.
• Screw Size : dia 16 – 150mm by 300 – 3000mm Length.