PLASTIC INJECTION MOLDING

Front End Components

Ring Valves

Injection Screws

Injection Barrels
Click the picture to select your product.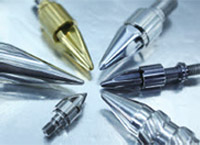 To meet today's most demanding plasticization needs, specifications and competitive markets. our 1-stop manufacturing solution has reinforced our market position to provide the highest quality screw, barrels and front end components for our customer's production process.
With a mission to be innovative to sustain company's growth, Weirui has created this innovative partnership development with customer and supplier for the steel material and has successfully developed the best solution for the most corrosive and wear resistant Nylon ( PA ) polymer ( with 50% glass-filled ) with a special powdered-metallurgical alloy steel ( of high Tungsten and Chromium composition ).

Application Polymers :
• PEEK, PEI, PPS, PES, PPO, PPA, PA, PC, PMMA, ABS, PC/ABS, PP, PE, HIPS, PET, PVC, EVA, SAN, PU, Regrind ( Additives : Glass-fibre, Carbon Fibre, Metal Powder )